Some of you may get a kick out of this if you have kids...
My daughter and I finished the rebuild on the MC400 I wrote about here:
https://forums.mtbr.com/showthread.php?t=483490
It's intended to be a rider for a (tall) 7 year old until she's about 10, then our youngest daughter can take it over.
Turned out pretty well I think and she certainly likes it! Her old 20" wheeled Schwinn Mini Mesa only has 7 speeds, so the extra gears will really help when we go riding the single-track trails.
Frame: 1995 MC400, 12" Killer-V
Fork: RST 24" Capa (junk I know, but there's not much for 24" wheels with a 1" steerer tube)
Rims: Sun (stock)
Hubs: Shimano MJ10 "Mountain Junior" (stock)
Tires: Cheng Shin Maxxis
Pedals: VP 196 (Purple Ano)
Crank: Sugino DX1 22/32/44 x 152mm, ramped and pinned
Cogs: Restacked Deore 7-speed into a 6-speed 12/24
Chain: Sachs PC 80R
BB: Tange Cartridge LN-3922 68x103
Front Derailleur: NOS Deore LX M583
Rear Derailleur: NOS Deore LX M560 Medium Cage (Carmichael idler pulley)
Shifters: Deore XT Thummies
Handlebars: Answer Hyperlite with Velocity bar ends -- Both 3DV
Grips: ATI / Tomac Slim Line (translucent purple)
Stem: Control Tech 1" threadless, 90mm
Headset: Cane Creek SAS
Brakeset: Avid Single Digit 5 (chosen for 7 year old hand strength)
Brake Levers: Avid FR5
Seatpost: 3DV Kalloy Uno 25.4mm with a Cane Creek shim to 27.2
Seatpost QR - Ringle cam twist
Seat: Ritchey / Vector
As received from Craigslist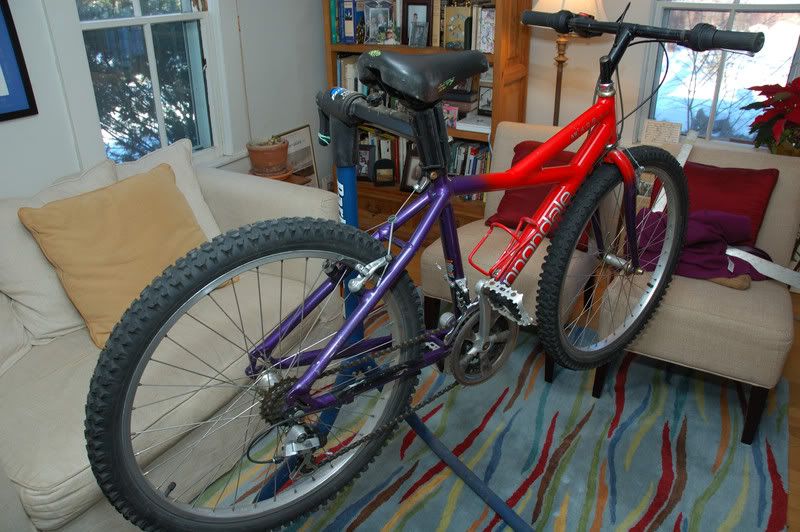 The teardown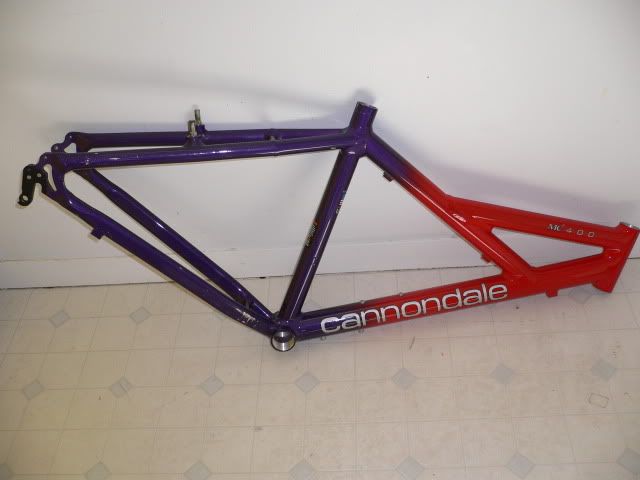 The leftovers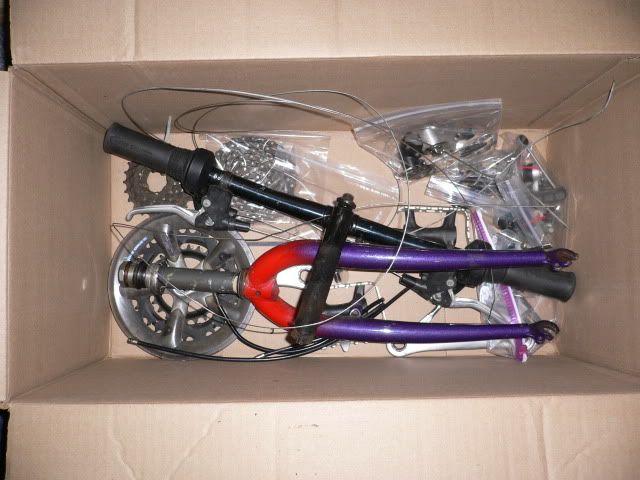 The final result!