New to the forum, but got a lot of inspiration here, so figured I would post what I have gotten out of it. Credit where credit is due, Demo9 inspired a lot of this, but I think I contributed one really cool thing to his builds.
With almost exactly a month to go before his birthday, I started the next kid build. My younger Grom is really in for a huge surprise. The kid has been rocking an $85 Walmart bike that weighs almost as much as him for way too long now. His skills have surpassed that little bike by a good bit, and he deserves to ride something that will no longer hold him back.
Hopefully, this will be it.
I had previously build up an Avent Mini BMX as a dirt jumper for my daughter. Those BMX mini frames have sizes and angles that are pretty spot on for dirt jumpers MTBs that are just mini versions of the ones that the big boys ride, so her build made a really nice little bike that she adores. After getting her new bike, I had a Specialized Hotrock 16 that she no longer needed. I looked around and saw some really amazing Hotrock 16 builds out there, with Demo9's being a really good example. Here is what the bike looked like when we bought it.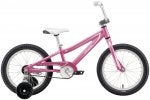 This frame will make a really cool little dirt jumper.
Original Planned Build:
Frame - Specialized Hotrock 16"
Fork - Answer MAG Pro 20"
Headset - VP sealed with Morphine Deadbolt stemlock
Wheels - Sun CR18 16" hoops laced with titanium spokes and Sapim inverted brass nipples on Rockman 32h sealed ISO disc hubs with 100mm/110mm Al axles, front and back.
Cranks - Sinz 125mm with 34t ring and Ti chainring bolts
BB - Sinz titanium with American BB reducer
Pedals - Wellgo Mini
Chain - KMC Superlight
Freewheel - 16t GT 120 POC ratcheting
Brakes - Hygia Usagi hydraulic discs with 140mm Ashima Airotor discs, front and back. Planned to make custom bolt on disc tabs.
Stem - Truvative
Bars - Origin8 2 piece
Grips - Odi BMX mini lock-ons
Saddle - Sinz mini
The important design elements were:
1. Light weight frame and components. Weight means so much more when you are 40lb.
2. Disc brakes. My kid is pretty fast and rides some pretty technical stuff. His hands are not super strong yet, so adjustable reach and hydro modulation was key. The Hygia Usagi lightweight cross country brakes with 140mm rotors will be like a crazy big downhill setup for him, but still not weigh a ton. Also makes his bike look legit for a freeride/dirt jumper.
3. Disc hubs are hard to find for these little frames, and the commonly cited versions are really expensive. I found that mod trials bikes have 110mm rear axle spacing, are lightweight, and not stupid expensive. TartyBikes has a good selection, and their shipping/customer service is unmatched. This may be my contribution to the Hotrock 16 custom build culture. I have never heard of anyone using trials hubs. The other solutions I have seen are much heavier and are a clunky workaround bolt on to a BMX flip flop hub. This is much nicer.
4. Sinz makes cranks with crankarm length from 125mm and up. Lighweight and short enough. Second build with these.
5. Old school 20" BMX forks are lightweight, and with the burly crown, have the look of suspension forks, and slackens the headtube angle just a bit. Makes my Grom feel like his bike is just like Dad's. Relatively cheap if found used.
I already had most parts, some were still on order. The only things to remain of the original bike will be the frame, the tires/tubes, and the seat clamp.
I got yellow, black, and anodized purple paint, as well as white and black vinyl decals to round it out.
Bike frame was broken down and made ready for stripping. I removed all unnecessary tabs. After many hours of grinding, sanding, painting, sanding, more painting, etc, I had something I liked.
By this time, most of the other parts had come in. There were a few snafus. The origina plan for a VP sealed headset fell through because the ebay seller didn't send the bearings, and in the end, proved that they knew nothing about bikes. I sent it back for refund. The replacement was a Crank Brothers Opium C headset. This thing is pretty trick. 66g! Weight is a super huge factor for building kids bikes, and this headset was perfect for this. If it holds up well, this may be my go-to headset in the future.
The next thing to be switched out was the Origin8 2 piece bars. They just looked bad. Good thing I had a set of 2" alloy risers that would work.
The next interesting mixup is that I was sent 130mm Sinz crankarms instead of 125mm. Oh well, kid will have to deal. I'm sure he will have no problem.
I also found a set of A2Z brake tabs for relatively cheap, so I ordered them, figuring that the custom brake tabs would be a backup. I felt a bit stressed about time, so these should just bolt up and go, no fabrication necessary.
I am still waiting on the Sapim inverted nipples. This is stressing me out. I have tried to lace these rims previously, and the spoke holes are very tight on the spoke nipples. The tight holes means that the steeper angles on this small of a wheel make it hard to get everything to lace up nicely. The inverted nipples mean that I can pass the much thinner spoke through the hole, and the nipple remains inside the rim. This should make the steeper spoke angles much less of a problem. Hopefully they get here very soon. Time is running out.
Here is my stash of loot as it stands.
I have already put everything together that I can at this point. No pics yet, but trust me, this little bike is super trick. It will be probably in the 14-15lb range when done. It has short reach hydro disc brakes. It is single speed and full rigid, but I am sorta skeptical about the need for either of these things for a 5 year old. The gearing would be just extra weight, and he motors up hills on his heavy Walmart bike already. Cutting the bike weight in half should make it even easier. The only suspension forks worth anything for a 16" wheeled bike are White Bros, and that is a pricy little toy. I'll wait until next build for that.
Next post should probably be of the completed bike. Wheel build is the only major thing holding me up. I am taking it to the bike shop tomorrow to have the brake hoses shortened from their adult size. I have never done this, and I don't have time to experiment and get it wrong before his birthday. I'll let the pros do it right the first time.
Can't wait to see this project finished. His little bike will be the coolest in the house when done. Then it will be time for a rebuild on mine.