Discussion Starter
·
#1
·
I bought an '08 EnduroSL Expert demo bike just about a year ago, since its raining and I can't ride I figured I'd put up a review after the year of use.
This bike replaced my '05 Rocky Mountain Switch, which is a nice machine, but at 37lbs you paid with that thing going up hills. As much as I hate the term, I guess I'd call myself an "all mountain" rider. More than XC, but not quite FR. I go fast up and down, get air, but not much in the way of true hucking. This bike does it all for me, it really fits my riding style perfectly. I don't think it is "too little" bike - a feeling I started having about my Titus RX100 or "too much" bike a feeling I was getting about my RM Switch.
Bike as it looks today (a bit dirty from yesterday's ride):
Changes from original:
- changed Spec'd grips to Oury's - slightly thicker and more to my liking
- swapped to Maverick Speedball (anyone who has an SL should have an adjustable post on it)
- put a bashring on - first one was plastic, destroyed that and am now sporting a RaceFace aluminum one: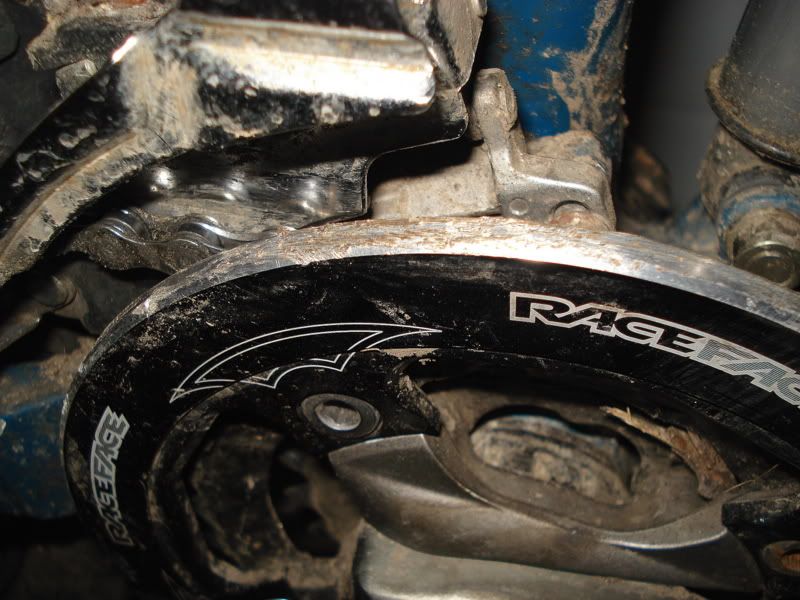 Maintenance in the last year
- New chain and middle ring
- new brake pads
- regular maintenance on fork, shock and seatpost (cleaning, greasing etc)
- swapped the BB to a sealed cartridge, chasing a squeak that ended up being a loose QR (doh!)
- loosened crown bolt to allow Attitude knob to turn
- bled brakes (how do brakes get shipped with almost no fluid in them?)
- swapped Spec'd tires to ghetto tubeless Nevegal/Blue Groove - I cut the sidewalls on the original front and rear tires within 6 weeks - weak sauce if you ask me. I love these Kenda tires - they are definitely the most popular tire around here, but they suffer from quality control issues. About 50% of them lose knobs. I hate it, but after sending a few back I'm resigned to the fact this is going to happen and I just hope I don't hit a sharp rock where the knob used to be until the tread wears out...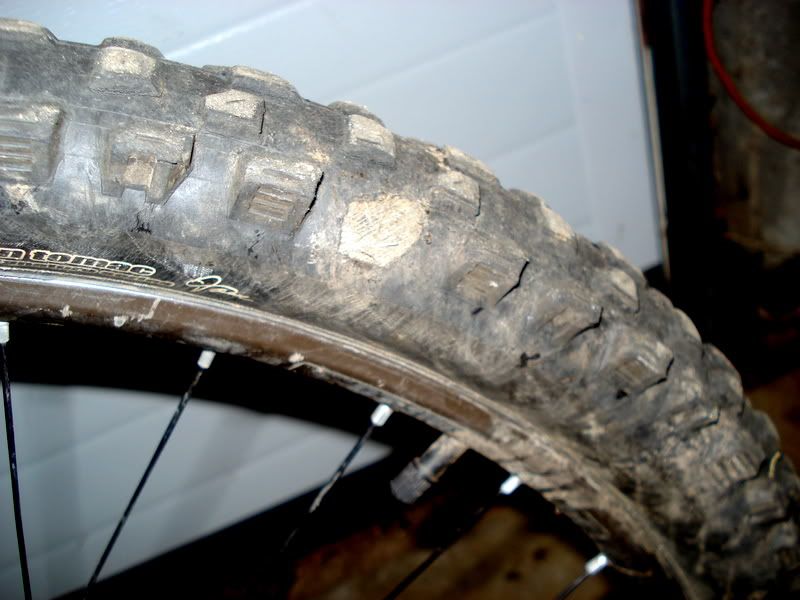 The ugly:
While I haven't had any really serious crashes, I've had plenty of unplanned dismounts. Unfortunately a few of these have resulted in hits to the frame. The paint has held up pretty well for the most part, but I do have three spots where the top color is chipped off, none of these have serious denting:
Non-drive side, downtube: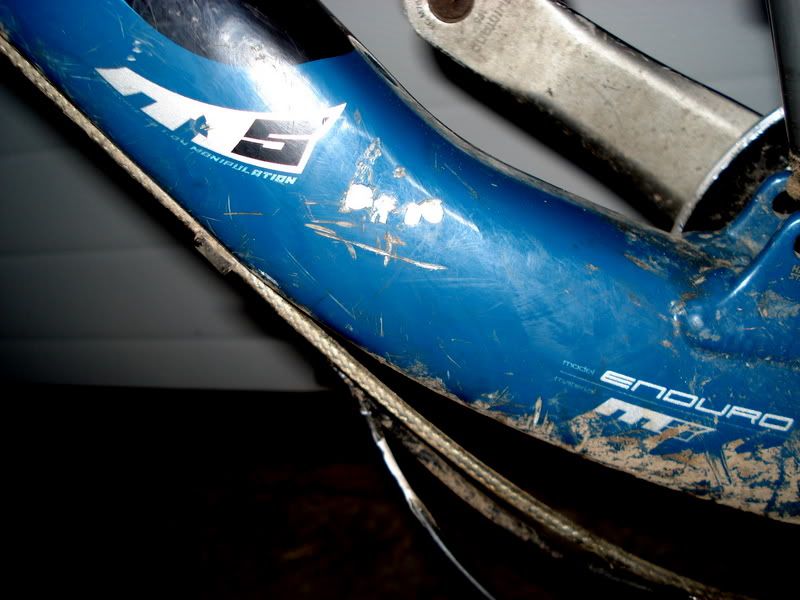 Non-drive side, chainstay: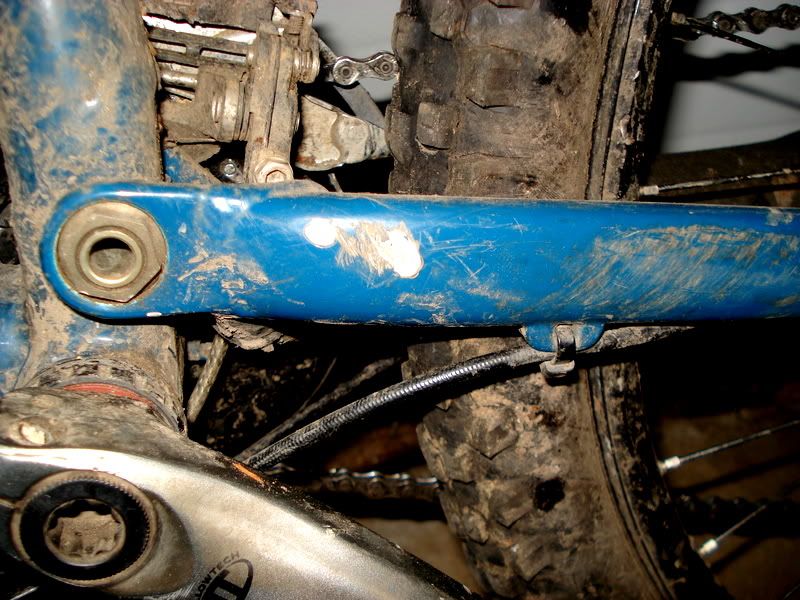 And bottom of the downtube: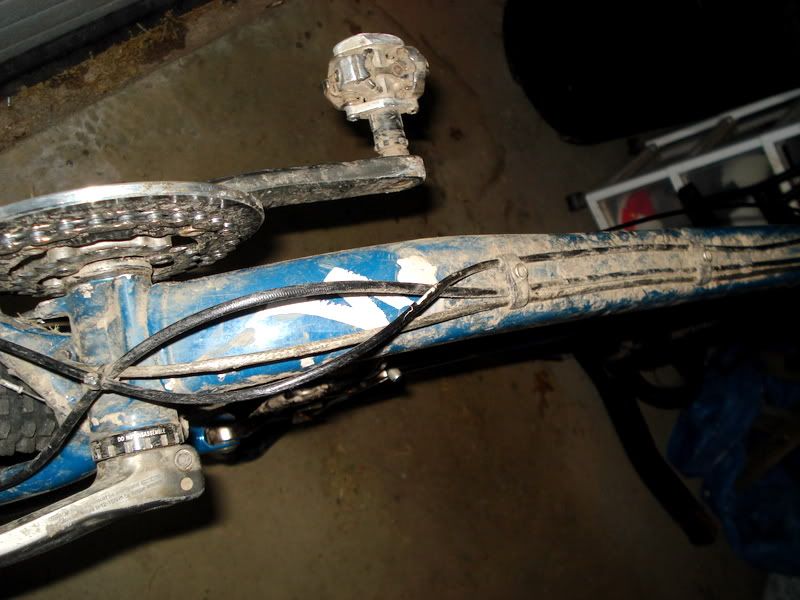 So in summary - the best bike I've ever owned, it does exactly what I want it to with no fuss, no muss, no issues. Perhaps the only thing I'd want different on the bike would be the ability to easily swap stems. I think what I have on there works ok, but I'd sure like to try a longer one (local Spec'd dealer is weak).
One thing I have noticed, if I let an XC type rider try the bike, they love it. If I let a FR type rider try it they don't. It definitely leans more towards XC than DH/FR.
John