Discussion Starter
·
#1
·
Looking for some owners of the '06 to '08 Specialized Big Hit to lend me a hand. Need some measurements off of the rear triangle for a project of mine. If you can help it would be greatly appreciated. Here's a pic of what I need: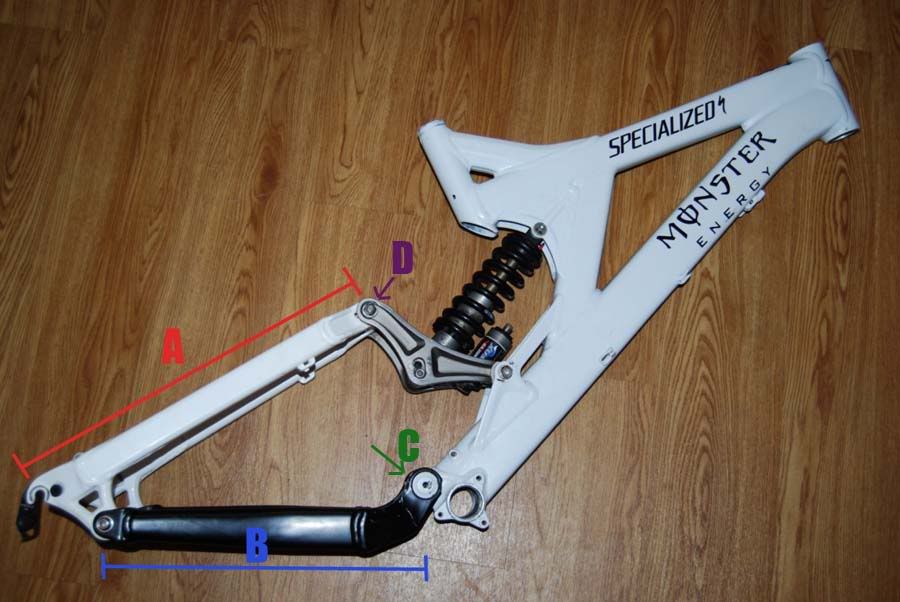 Measurement A: Length of Seat Stay from center of bolt hole on the yoke to center of the axle.
Measurement B: Length of the Chain Stay from center of lower frame pivot to center of rear pivot.
Measurement C: Width of lower pivot. Preferably the width of the inner part...the part of the frame itself.
Measurement D: Width of the top yoke of the seat stay. Or, inside to inside of the rearmost mounts on rear shock linkage.
The measurements don't need to be exact (no need to break out the micrometer or anything), and they can be in either inches or millimeters. I'm just trying to get an idea if the rear triangle from the '06-'08 Big Hit would be a suitable (and much beefier) replacement for the rear triangle on my project bike (
https://forums.mtbr.com/showthread.php?t=570489
). If so, i'll set out to try to find one...otherwise i'll have to dish out the cash for the Risse Racing rear triangle instead.
Anyway, if any '06-'08 Big Hit owners out there can help it'd be greatly appreciated!