Discussion Starter
·
#1
·
Hello everyone, I am new to this forum (but not new to reading it) and ive decided to finally make an account and get involved. Im getting back into biking after about 6ish years, I haven't really biked since i was young. Now being 21 and in college, I am transferring to an environmental college next Autumn, and literally EVERYONE rides their bike to class. My previous bike was a GMC Topkick. Even though it was an OK bike, it was cheap quality, components were rusting after only 6 months of indoor storage, and it must have weighed 50lbs. I wanted a REAL mountain bike that was high quality to commute to class and take on light trail here and then. So i decided to rebuild an "old friend"
My father purchased a 21-speed, 19 inch 2000 Specialized Hardrock brand new from Amity bike in Woodbridge CT brand new in the year 2000 for his use. Me being only 7 years old, my father used to ride it here and there when i was learning to ride. I rode the bike myself when I was 12-13 years old. Then it sat in the shed for about 7 years.
When i went to restore it, the tires were cracking, bald and blown out. the cables were frayed and destroyed, the breaks were messed up and heavily worn. The rims were rusted and bent, it wasnt tuned and the rear gripshift was broken. I replaced the rims with 26"black ones, new inner tubes and chunky off-road Innova tires. I replaced the cables and sleeves, installed a new gripshift, and an SR Suntour front fork (the bike didnt come with suspention). I installed new C-star break pads and of course a new headset for the threadless fork. lastly, I replaced the ripped seat with one i bummed off a K2 mountain bike. I then had it tuned by a local bike shop and now it is perfect! The black rims and big tires make it much more professional looking.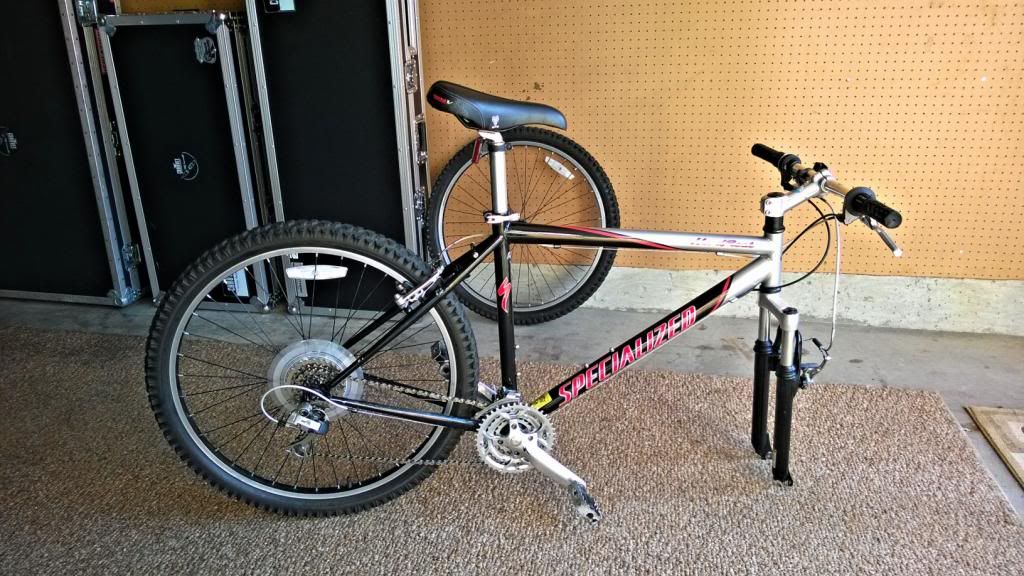 The quality and feel of this bike is head and shoulders above my old GMC, and im proud to ride it due to its history. I did everything myself except the tune, and i think i did pretty good job. The only thing that is a pain in the ass is the v-breaks. theyre great, but i have to disconnect the front break to put my bike on my roof rack. Other than that i love it, and get plenty of comments riding round my college. LMK what you guys think!